Ten extra hospital beds deliver better care at the bayside
7 December 2014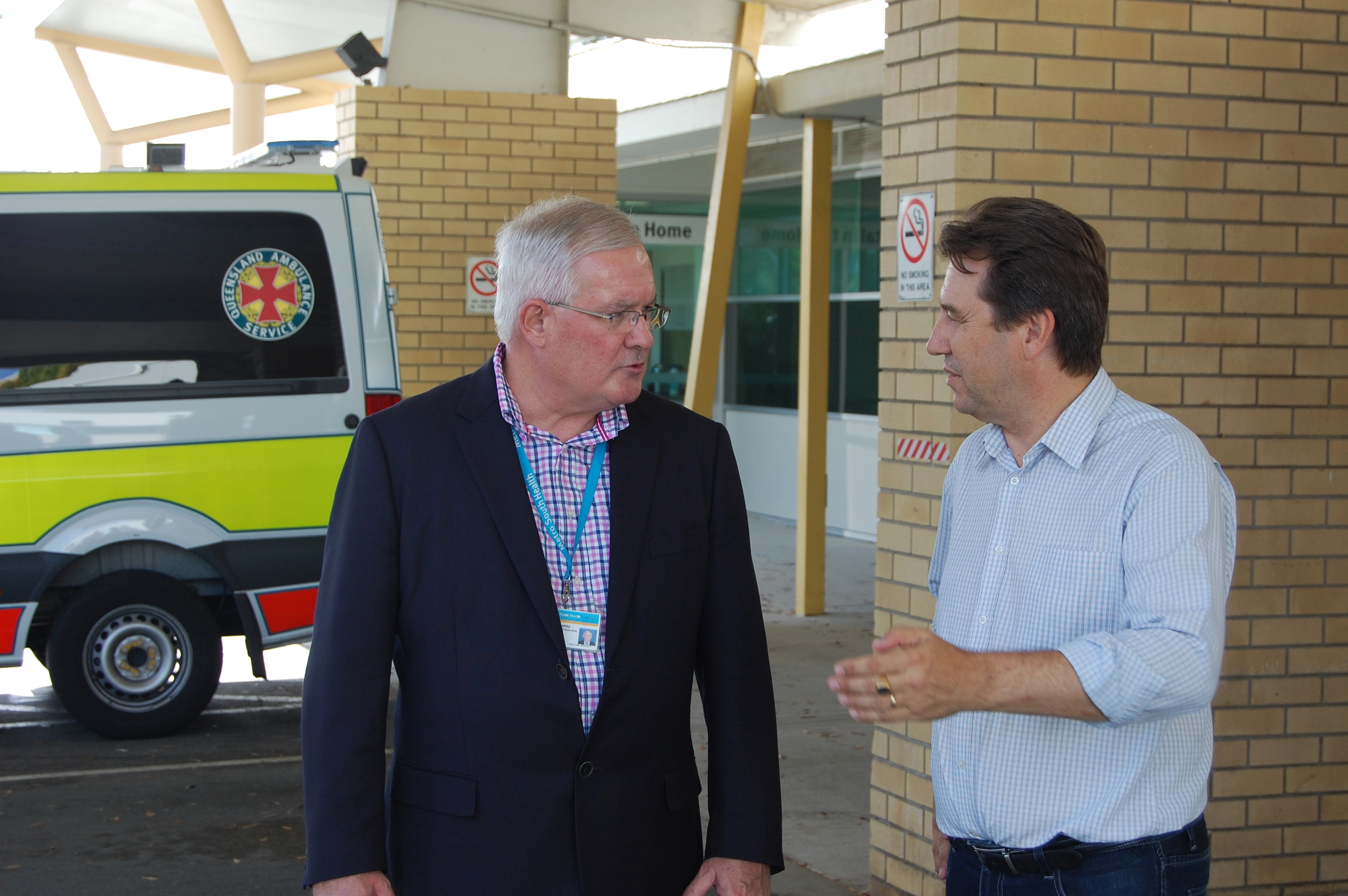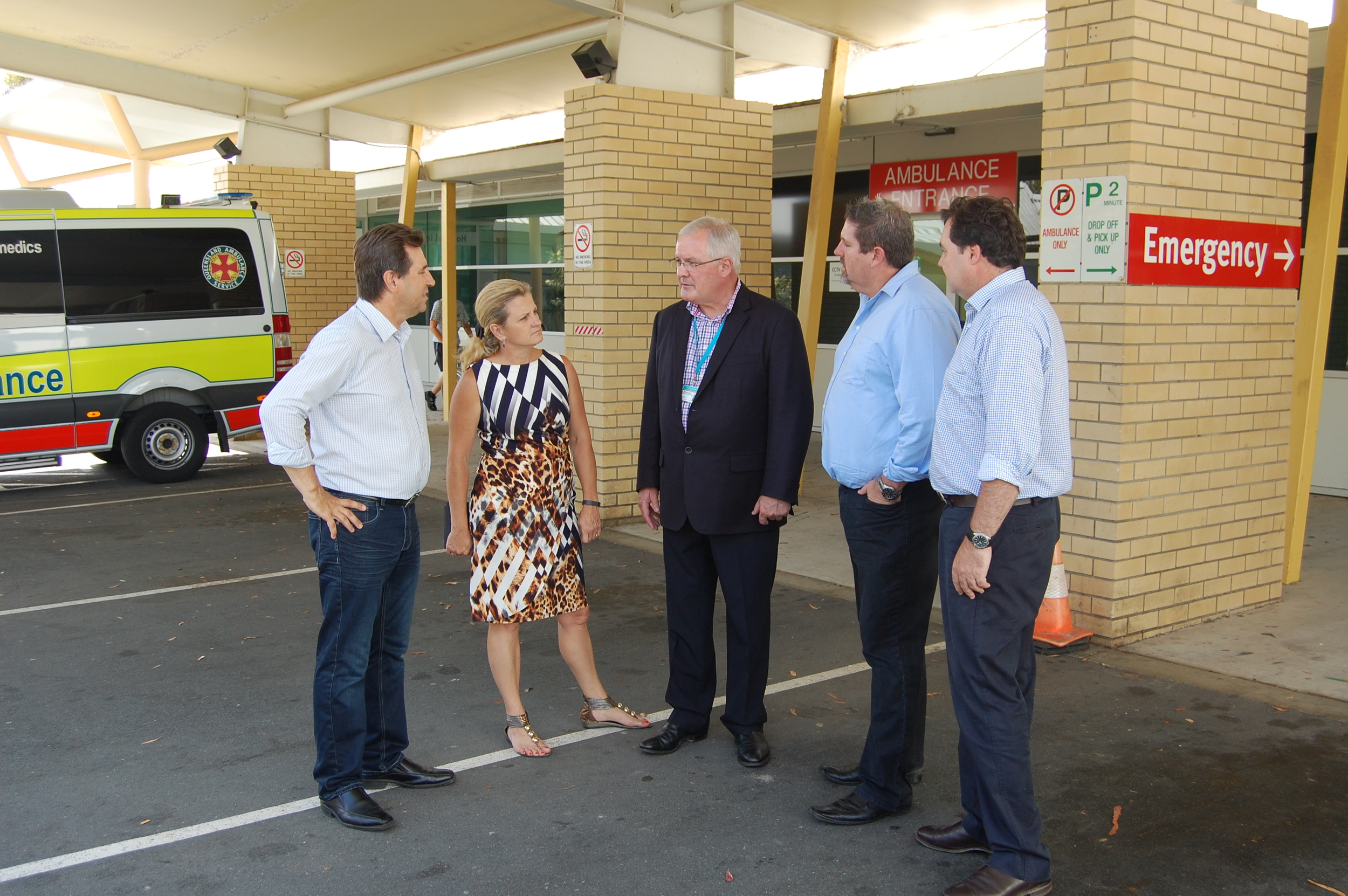 Redland City residents will receive improved emergency care and frontline medical, physio and pharmacy services at Redland Hospital with State Government funding for ten extra beds, left mothballed by Labor.
Local MPs and the newly-endorsed candidate for Redlands, Matthew McEachan, gathered at the hospital today, to welcome the decision to provide an extra $2.8 million and open the beds this financial year.
Member for Cleveland, Mark Robinson, said joint representation by Redland City MPs, Mayor Karen Williams and the local community delivered the result.
"Demand for health services at Redland Hospital is growing at over five percent a year and so our investment will also grow to over $4.6 million in 2015 –'16," he said.
"These are 10 beds created and immediately mothballed by the previous government because no funding was available for their operation.
"After the chaos of the Labor years, better financial management by the LNP and by the Metro South Hospital and Health Board made this possible."
LNP candidate for Redlands, Matthew McEachan, said the short-stay beds would help improve the performance and flexibility of the Redland Hospital.
"The Newman Government is returning health services closer to where people live," Mr McEachan said. "These beds are a good example of the benefits LNP improvements can deliver here in the Redlands."
Redland City Mayor, Karen Williams said short-stay beds are designed to treat emergency patients who require 24-48 hours of care.
"Not only do short-stay beds enable patients to be treated quickly but they also free up other assessment cubicles within the Emergency Department," she said.
"This will reduce pressure on arriving ambulance crews and improve the management of inpatient beds to allow more surgical patients to be cared for locally."
Member for Capalaba, Steve Davies, said Metro South Health would begin recruiting staff to support the additional capacity early in the new year.
"The beds will open as staff are recruited to the new positions," he said. "There will be additional frontline nursing, physiotherapy, pharmacy and medical staff all working locally to provide better local access to emergency care."
"The Newman Government believes in better local health service and has the proven capacity to deliver. Today's funding announcement will enable these beds to finally be opened and benefit the local community."
Australia's First Surgery Guarantee
24 November 2014
The Newman LNP Government today announced that local patients in the Metro South Hospital and Health Service will soon receive a guarantee to have their elective (non-emergency) surgery on time, in a national first.
Member for Cleveland, Mark Robinson MP, said from 1 February 2015, the LNP Government's Wait Time Guarantee would ensure all eligible Queenslanders who are ready for elective surgery will have their procedure within the medically recommended time.
"If our local Hospital and Health Service [HHS] cannot provide surgery within this time, then patients will be offered the next available appointment in a public or private hospital at no cost," Dr Robinson.
"This surgery will be arranged by the original hospital, and patients will not have to pay for any travel or accommodation costs if they are treated more than 50km from their original hospital.
"This is a fundamental change for local residents – as they will no longer be just a number in the queue for surgery.
"Under Labor nearly 1 in 5 Queensland patients – 17% - waited too long for their surgery.
"We expect to have this at 0% by the end of the year – and the LNP's Guarantee will keep it at 0%."
Dr Robinson said in just over two and a half years, the LNP had transformed Queensland Health from being a Department even the Labor Party wanted to destroy, into a patient-focused service which is now offering an Australian first to Queensland residents.
"We promised to revitalise frontline health services for Queenslanders – and today's announcement reiterates our determination to deliver on that commitment," he said.
"This is a strong team, with a strong plan to deliver the services we need."
Dr Robinson said from 1 February 2015, all eligible elective surgery will be carried out within the following nationally defined times:
Urgent (category 1): Surgery recommended within 30 days of being added to the wait list, as the condition could get worse and become an emergency
Semi-urgent (category 2): Surgery recommended within 90 days of being added to the wait list, as the condition is causing pain or disability but is unlikely to become an emergency
Non-urgent (category 3): Surgery recommended within 365 days of being added to the wait list, as the condition is causing minimal pain or disability.
Dr Robinson said patients who were currently on Queensland Health's elective surgery wait list would soon receive a letter explaining how the guarantee works.
For more information about the Wait Time Guarantee visit HERE or call 1300 332 807 between 7am and 9pm, 7 days a week.
Record numbers of patients being treated
23 October 2014
Every year our health services are seeing more Queenslanders present to emergency departments, more patients admitted to our hospitals and more patients referred to outpatient services. In fact Queensland is experiencing some of the highest growth of activity in the country.
Our local HHS is at the forefront of meeting this demand, and as part of the LNP's strong plan to revitalise Queensland Health has delivered a significant increase in the front line services being delivered to local residents of the Cleveland electorate.
Compared to Labor's last full financial year in Government we seen a 12 per cent increase in local accident and emergency services in our local hospitals.
Hospitals across the Metro South HHS saw 260 869 presentations to accident and emergency services in 2013–14, an increase of nearly 23, 230 presentations compared to Labors last full year in office."
Compared to Labor, we have recorded an 8.4 per cent increase in the delivery of outpatient services and a total of 4.44 million patients in 2013–14.
There has been a 12 per cent increase in services provided to local patients admitted to hospitals in the Metro South HHS.
Almost 195, 236 local patients receiving care in our hospitals in 2013–14. This was an extra 21, 598 patients treated compared to Labor's last full year.
Not only have we seen increased admitted activity in our own hospitals delivered by our own staff, we are also witnessing an increase in the admitted activity we are delivering in partnership with the private sector.
LNP announces blitz focussed on local eye surgery
20 October 2014
The wait for important eye surgery will soon be over for almost 2069 local patients with the LNP Government today announcing a $23.4 million blitz to bring them much-needed relief.
The new statewide campaign to slash ophthalmology (eye surgery) long wait lists will improve the quality of life for patients who have been queuing for treatment for too long, with vision impairment or debilitating eye conditions.
We are progressively revitalising the Queensland health system and the LNP Government is now focussing firmly on the unacceptably long wait for ophthalmology appointments to ensure Queenslanders have better access to vital eye care.
In September this year, there were more than 7900 people in Queensland waiting longer than clinically recommended for an initial ophthalmology appointment. Locally, within the Metro South HHS around 2069 local residents are waiting.
Queensland Health has engaged ophthalmology service providers in a bid to clear this long wait list.
We all know and appreciate how important good eye sight is to people's health and well-being and the Government has a strong plan to ensure Queenslanders who have been waiting too long to see an ophthalmologist get that important treatment.
Contracts with service providers were developed off the back of the Queensland Government's successful campaign to provide cochlear implants for people with hearing loss.
The Government has accepted proposals from service providers which will mean every ophthalmic patient who had waited longer than clinically recommended will be seen and treated by 30 June, 2015.
Patients will be assessed for a range of vision impairments and debilitating eye conditions, such as cataracts, before receiving medical treatment or surgery if required.
The multi-million dollar eye surgery blitz follows the release of new long wait elective surgery figures showing a massive reduction of more than 90 per cent in the number of patients waiting longer than clinically recommended for their surgery.
The services would be delivered in addition to ophthalmology services currently available and did not represent a cut to existing public hospital services. Health and Hospital Services around the state will retain current funding for the delivery of healthcare in line with their service agreement.
Health Minister, Lawrence Springborg would soon send letters out to eligible local ophthalmology patients to advise them of the good news.
ENDS
Redlands ambulance service bolstered with Cleveland station opening
16 September 2014
As Ambulance Week festivities are underway across the state, the Redlands community celebrated with the official opening of the Cleveland Ambulance Station.
Health Minister Lawrence Springborg joined Queensland Ambulance Service (QAS) Commissioner Russell Bowles and member for Cleveland Mark Robinson at today's proceedings and said the commissioning of the station, which has been operational since late June, is already further enhancing patient care.
"As part of the Queensland Government's strong plan for a brighter future, we have invested in building this state-of-the-art facility in the busy Metro South Local Ambulance Service Network (LASN)," Mr Springborg said.
"The Cleveland station has 24 paramedics, led by Officer-in-Charge Kelsie Pelka.
Already this financial year, crews have attended more than 1,400 cases.
Most of these responses have been for life-threatening emergencies.
"With such a busy workload, it's vital those on the frontline have access to the best facilities and resources and this station certainly ticks all the boxes in terms of modern design and practicality." he said.
The facility has multi-purpose meeting and training rooms, generous staff accommodation quarters, a fully equipped kitchen and spacious vehicle garages including a plant room. The comfortable working environment for paramedics includes a furnished patio area with a barbeque.
Smart and eco-friendly design components include solar power and hot water systems, rain water tanks plumbed into toilets and vehicle wash bays, sky lights and motion-sensored lighting.
Mr Robinson said the future needs of the community will be met.
"The station houses a fleet of six Mercedes 319 Sprinter vehicles and one Subaru Forester, ensuring crews are well-placed to respond."
He acknowledged the outstanding work of the Cleveland Local Ambulance Committee which works diligently behind-the-scenes in support of the service and community alike.
"Led by President Neville Coventry, these dedicated volunteers organised a variety of fundraisers to purchase additional equipment and resources for paramedics, while also acting as a conduit between the service and community to help improve operations," he said.
Redland Hospital Results
Category 1 Treatment improved: 86% to 90%
Category 2 Treatment improved: 78% to 93%
Metro South General Dental waiting list: 10,859 to Zero
Since taking office in March 2012, the Newman Government has made significant inroads into addressing many of the well documented problems within Queensland Health. These wonderful results for Redland Hospital have come on the back of the new Palliative Care Services and Paediatric Emergency Department.

Cleveland Electorate residents will benefit from the additional funding by maintaining and improving the quality of service at our local Redland Hospital.

The re-built Cleveland Ambulance Station will be commissioned soon. Mark has worked tirelessly to ensure that a modern replacement has been delivered following the loss of the former station to an arson attack. The new facility will allow our highly valued ambulance officers to service the Cleveland community at the highest standard.
 
Redland Hospital Precinct Expansion
Mark is working with the Metro South Health Board to consider the long term health needs of the community and the possibility of expanding the hospital beyond its current site.